Amedeo Modigliani and Jeanne Hébuterne
 The brand BLZ or ….
"Italy has lost a train"
(Written by P.G.)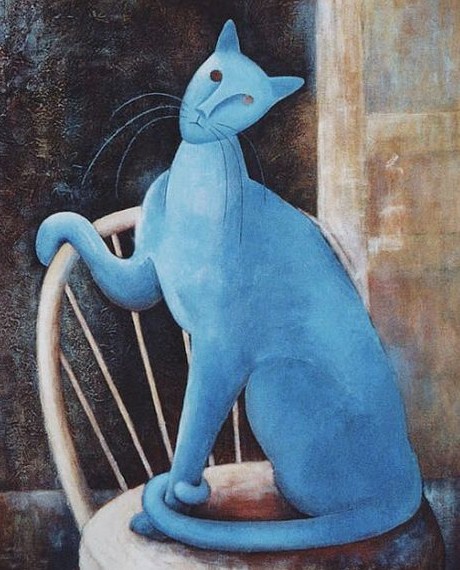 Our compatriot Aldo Zedda emigrated to France to the age of twenty years in 1919 just after the First World War.
After working for several years to LR, a French manufacturer of trains in O scale, returned to Italy in 1933 where he tried in every way to start an activity production of miniature trains.
Not being at all, a supporter of the regime, he did not find credit from banks and was hindered in any way.
In 1938, now discouraged, he returned to France, where, during the war, in 1942 he finally found two lenders, MM Bourdeaux and L 'Heure from which he obtained the necessary funds to found the company of his dreams.
In 1943, he launched the BLZ (Bourdeaux – L 'Heure – Zedda) that began with success, despite the war, to produce O scale trains
In 1946 the company entered in OO scale with a beautiful Pacific locomotive type faired produced in green livery and black livery in two versions with slightly different mechanics and case
The locomotive in question , at real, belongs to a batch of machines built in 1916 for the network ETAT, transformed in 1933. Of these, only 231 761 was faired and it is known for having pulled the royal train of England from Calais to Paris
during the first visit to France of the British royals in the post-war.


The locomotive works in CA BLZ three rails with inversion relais double shooting,  from Rivarossi solution a few years later for the blue series.
The machine has a frame of steel, the case is in sheet steel and bronze, the engine has the robust and reliable door-brushes apparent on the right side of the machine.
BLZ also produced an electric locomotive freelance American-inspired running gear with 2-B-2 also in two versions

with a curious superstructure consists of two shells connected by horizontal screws. The locomotive is removed then opening it in two vertical parts … and only has the manual reversing lever on the roof or horizontal stem depending on the version.
Curious detail: this machine has no windows front and any drivers miniature would be obliged to take it with the head always side out the window ….
The first tracks were bent sheet metal rails and sleepers real wood, are then produced binary Maerklin similar to the same period.
Between 1946 and 1949 products are two beautiful complete sets called:
– "Pacific" with locomotive faired black or green and cars bearing case called "saucisson" for their tubular shape reminiscent of a salami


– "Orient Express"
with electric locomotive and cars CIWL sheet metal lithographed , the most beautiful that have ever been produced


The brand BLZ disappears in 1951 leaving fans the daunting task of finding this material became extremely rare … ..
But Aldo Zedda not to be won and then he founded an other brand named "Scellé – Bell" that produces a strange electric locomotive with three axles, a kind of "shortened edition" of the then-new CC 7100 SNCF

This also works in AC three rails with reverse manual.
Were produced two sets, one passenger and one freight wagons and cars with entirely in sheet steel
Even this brand disappears around 1954, leaving the question: "What would have produced Aldo Zedda if, as he wanted to, he could work in Italy? …."…

(@ March 2, 2015)